Drive-by Cinema
 PHASE 1 of the Drive By Cinema Project was completed on June 27, 2014. 
Drive-By Cinema (DBC) was inspired by the late George Lin, former San Diego Asian Film Festival Associate Director, who once proposed buying old mail trucks to drive around the city to project films. In the same spirit, Pac-Arts has refurbished an old truck to cruise around high foot traffic areas and blast films wherever they can. There are no rules of engagement. Pedestrians and followers will decide what to do with the film. They can walk in and out, they can talk, they can eat, or they can ignore it altogether. This is an experiment in audience-driven cinema exhibition, fused to the very localness and publicness of ordinary spaces.
Drive By Cinema is a two-year experimental mobile cinema determined to make its own map of San Diego, one filled with lively stomping grounds from today as well as those forgotten from a time gone by. DBC is made possible by a grant from the James Irvine Foundation's Exploring Engagement Fund.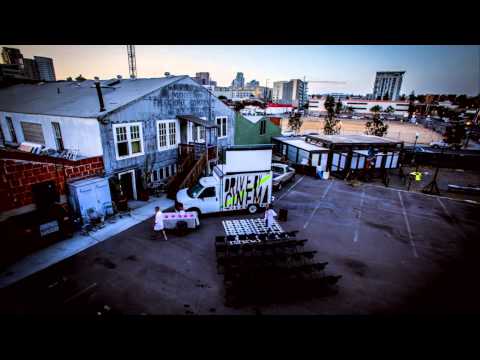 Public Radio International coverage of DBC

This is the Motley Crew for Drive-By Cinema
(Top Row From Left to Right):
C. Ree - Digital Nomad – This punk rock designer spends her days hunting down obscure objects and ideas to hold Drive-by Cinema's leather whip by night - Christina@Pac-Arts.org
Ryan Kuratomi - Documenta Y / Occasional Wizard - This part time wizard spends his mornings preparing students to be future artists, and his nights looking for filmic potions
Darlene Portades - Design Witch - This chief designer spends hers days perfecting the DBC look with her virtuous touch–and her nights conjuring up performance art magic - Darlene@pac-arts.org
(Bottom Row From Left to Right)
Greg Stevens - Mad Scientist - He spends his days customizing the objects of our fantasies: secret doorways, separate guesthouses, flashified cars–to name a few. And for these reasons, his nights belong to his inventions alone
Julia Richardson - The Executor / Documenta X – This photographer magician spends her days advising and nurturing the young to transform into Drive-By Cinema DIY Executor,  able to metamorphosis into any person and position Julia@Pac-Arts.org
Kiik Araki-Kawaguchi - Media Guru – This Poet Star God spends his days antagonizing the structures of semiotics to defend DBC's honor by battling on Twitter by night - Kiik@pac-arts.org
Bryce Griffin - Electronic Wizard – San Diego Native spends his days spinning crisp beats for trance fans to power DBC with explosive films at night - Bryce@Pac-Arts.org
For inquires on Drive-By Cinema contact Christina@Pac-Arts.org.